If you're a Sonic Electronix customer you treat your car like family. You spend hours upon hours each week commuting in your vehicle not to mention all the time invested in the perfect aftermarket audio set up. And nothing beats the luxury of the open road unobstructed by traffic. But for all of us living in 2k17, traffic is a reality and we need to find a way to occupy our time. Most likely you have a dual enclosure packed with two  VCW series NVX 12" subs in your trunk, a 4 channel Rockford Fosgate amplifier, and component speakers to top it off. But you just haven't found the time to update your out of style stock head unit because sound quality is your top priority.
Often overlooked, a double DIN head unit not only adds aesthetics but functions to optimize driver safety and sound control. Some of the most notable features include a back up cam, built in navigation, phone syncing for hands free talking, audio customization and my personal favorite; a DVD player. Here are our top five recommendations for the upcoming season and a couple bonus head units for the biggest audiophiles out there:
Kenwood DPX502BT
For those of you looking for simplicity, look no further. This Kenwood head unit comes with all the features you want without creating any additional distractions. Recommended for your young teenage son/daughter or older relative, this double DIN stereo is easy to use. The interactive preset buttons and massive knob make for easy tuning and control. And with variable color illumination you get the aesthetics you want without crowding your dashboard with a touchscreen. Simplicity is the top feature of this unit.
Boss BV9351B
https://www.youtube.com/watch?v=GNrVDC6jt-A
A step up from the DPX502 is the Boss BV9351B. Boss is notable for head units and loved for their affordable pricing. This double DIN BT receiver is acclaimed for its high production and image clarity. Ideal for anyone trying to sync their phone to their head unit, this double DIN stereo will navigate you safely to your destination. Not to mention if you are into the DIY projects, this will be an easy install and it's even easier to program!
Pioneer AVH-X2800BS
Next we have the Pioneer AVH-X2800BS double DIN head unit. With adaptable steering wheel control and interactive navigation there is no reason to take your eyes off the road. At a slightly higher price point then the previous two units, this head unit comes with a few added features to supplement any driving experience.
JVC KW-V220BT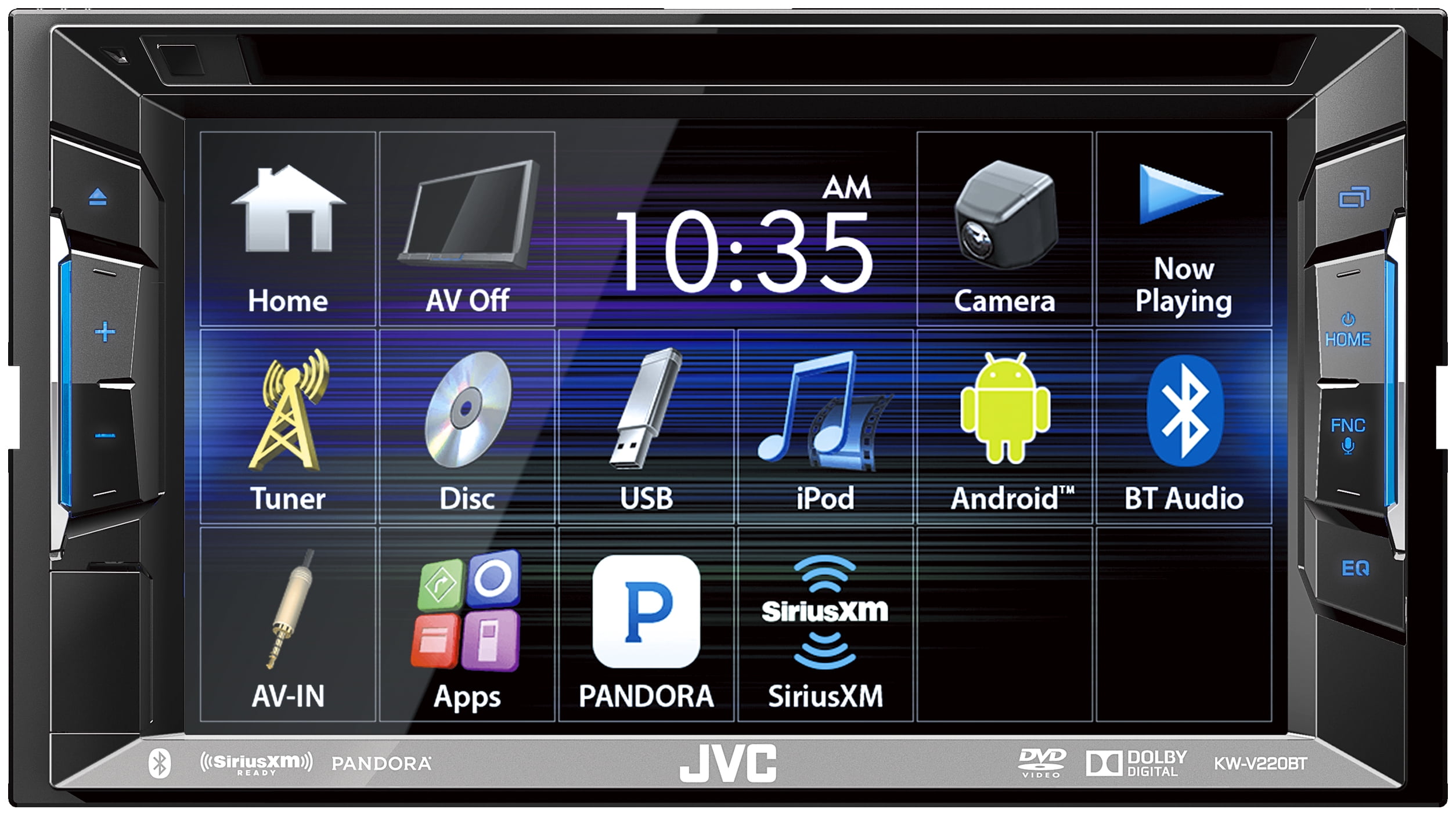 Now we have the JVC KW-V220BT. Year after year the KWV series by JVC serves its customers to its fullest. This unit provides great power and adjust-ability to maximize any aftermarket system; your subwoofer will thank you. Perhaps the biggest benefit this unit has to offer is its' ability to adjust the crossover of all speakers according to size and location!
Jensen VX7020
Last but not least, a favorite amongst employees and customers; the Jensen VX7020 double DIN head unit will give you the most bang for your buck. Buy the installation kit and this will make for one of the easiest installs of your DIY career. The number of features you get for the price is unbeatable. The picture quality on the DVD playback will force you to take your eyes off the road so it is recommended that you do not watch a movie while driving, but we have the override harnesses just in case; this is America. In addition if you need to supplement your vehicle with a back up camera the VX7020 has you covered. Lastly the hands free on this unit is so intuitive you will confidently pilot your vehicle  to your destination.
Staff Favorites
This section incorporates head units that cost a little more. These are staff favorites chosen straight from the experts.  If you're ready for a serious upgrade to whatever stock or aftermarket head unit you currently drive around with, now is your chance to spoil yourself.
Sony XAV-AX100
Sony's XAV-AX100 double DIN  receiver continues to grow Sony's legacy within consumer electronics. With such an adaptable design, the driver can talk to the head unit and fully operate it without taking their hands off the wheel. Also the XAV-AX100 features Sony's purpose-engineered Dynamic Stage Organizer (DSO). Meaning this standard technology helps overcome acoustic problems that cause full range speakers to sound muddy; hear your music the way it was intended to sound. Aesthetics are important and this unit has you covered with its' beautiful design, but too often is safety overlooked. The screen resolution is second to none which ensures when you're back up camera is in use no glitches or distortion are present.
Pioneer AVIC-6200NEX
The Pioneer AVIC-6200NEX will take your aftermarket system to the next level. This modern unit comes with all the features you want plus more! With almost 8 million points of interest the GPS on this unit has been redefined year after year to give you the most accurate directions with live traffic feeds. Furthermore the user interface is highly intuitive and customizeable. Altogether this unit will surpass your expectations leaving you feeling content.
Alpine
This last section is a tribute to Alpine. They have always been a staple within car audio and their head units set the bar amongst their competitors. Most recently Alpine has released their X series vehicle specific head units that are simply incomparable. For those of you with a Jeep Wrangler/Unlimited, GMC Sierra, Chevy Silverado, Ford F-150, or  a Toyota Tundra these restyle head units will redefine what you think a head unit is capable of.
Alpine X Series
So where do I begin? For starters the iDataLink Maestro Module enables users to retain all factory controls without having to sacrifice their dashboards beauty and suffer through their stock head unit. Text-to-Speech technology interacts with the user, optimizing your navigation system. While basic functions such as your tire pressure display is completely redefined with the highest resolution image projected on the most aesthetically pleasing screen in the market. The image quality of this head unit cannot be beat, ultimately this head unit was designed to be highly customizable while offering picturesque graphics to enhance the aesthetics of your vehicle.
Use coupon code: RESTYLELAUNCH for 5% off Alpine Restyle head units.